Kate Kuss I Yin & Meditation Training
Starts on Friday, 10/11/2023
Price 350.00 €
Description:
Yin Yoga is steadily growing in popularity all across the world. Yin focuses on long holds to stretch, massage and expand the connective tissue that encompasses the space within the hips, pelvis, lower spine and all of the joints. Benefits of practicing Yin include activating the parasympathetic nervous system, stimulating the feminine energy channel and increasing body awareness.
Join Kate Kuss for 20 hour Yin Training where we'll explore different Yin poses, Tantra meditation techniques, subtle body awareness and overall self-care. This course is developed for teachers who want to incorporate Yin in their classes and for students who want to dive deeper into this calming practice.
https://yogakula.at/events/yoga-meditation-training
Trainer :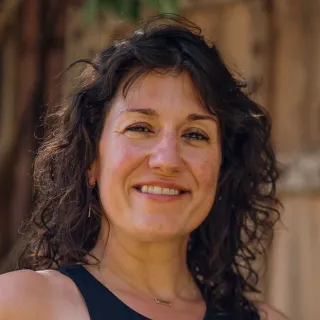 Kate (EN)
Kate Kuss is a teacher's teacher. Her trainings and classes open up space for teachers and students to feel more comfortable sharing their voice. Kate has experienced how a dedicated yoga and meditation practice leads to a healthier lifestyle. Kate's true love is sharing how we can take care of ourselves from the inside out. With over 1,700 hours of yoga teacher training, 700 hours of meditation training and teaching both students and teachers for 10 years, Kate passes down yogic tools that can be practiced both on and off the mat.
Dates:
| | | | | |
| --- | --- | --- | --- | --- |
| 1. | 10/11/2023 | 09:30 - 17:30 | Bösendorferstraße 9, 1010 Wien | Kate (EN) |
| 2. | 11/11/2023 | 09:30 - 17:30 | Bösendorferstraße 9, 1010 Wien | Kate (EN) |
| 3. | 12/11/2023 | 09:30 - 17:30 | Bösendorferstraße 9, 1010 Wien | Kate (EN) |
Cancellations
Your payment is due in full by the early registration date in order to receive the discounted rate. For example, the Early Early Bird Discount is available until September 15th 2023. To receive this discount we ask you to transfer the full amount until February 15th.
Full payment is required 4 weeks prior to the start of the program unless a payment plan has been previously arranged.
Stornierungsbedingungen:
Stornierung bis zu 4 Wochen vor Trainingsbeginn: Volle Rückerstattung
Stornierung bis zu 2 Wochen vor Trainingsbeginn: 50% Rückerstattung
Stornierung nach Trainingsbeginn: Keine Rückerstattung und nicht übertragbar
Cancellation Policy:
Cancellation up to 4 weeks before start of training: full refund
Cancellation up to 2 weeks before start of the training: 50% refund
Cancellation after start of training: no refund and not transferable
* All prices including VAT