200 Hour Yoga Teacher Training
Starts on Saturday, 19/08/2023
Price 3,650.00 €
Description:
Want to register? Sed an email to training@yogakula.at
Ask for a discount if you are a yogakula member or if you want to register as a couple. Payment in multiple instalments possible.
This Yoga Alliance Certified training is foundational 200 Hour Teacher Training, thought by Joan Hyman and Lenka Minarikova.
This program will provide you with the tools and the knowledge to find your voice as a teacher and start teaching. Theory and an active practice will be blended with each other and you will begin by learning to teach the basics as we explore styles from the Ashtanga and Iyengar Methods. The style of yoga taught in this training can be called "intelligent Vinyasa Flow". A dynamic vinyasa practice, with cues and instructions from the Ashtanga and Iyengar styles.
For schedule and content details check https://yogakula.at/events/200-hour-teacher-training-2023
€ 2.750 Students that have done another TT in the past (proof required)
€ 3.150 Early Early Bird until February 15th 2023
€ 3.400 Early Bird until May 30th 2023 - limited
€ 3.650 Regular price
-To receive a discount if you have previously done a 200 Hour Training or if you would like to pay in multiple parts, please reach out to training@yogakula.at
Teacher :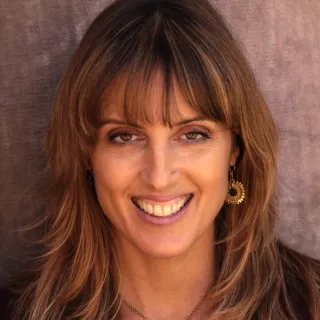 Joan Hyman
Originally from Philadelphia, Joan earned her bachelor's degree in Exercise Science from Temple University. Shortly after finishing college, she moved to New York City to pursue a professional dance career, and it was there that she discovered yoga. Soon after, she relocated to Santa Monica, California, where she completed the YogaWorks Teacher Training with the renowned Maty Ezraty and Lisa Walford in 2002, followed by further study with Annie Carpenter, who is known for her SmartFlow® system of highly intelligent sequencing. Joan received her YogaWorks Certification in 2006 then took her first trip to Mysore, India to study with the beloved Sri K. Pattihbi Jois and his grandson Sharath Rangaswamy. Since then, she has traveled extensively throughout India and has been blessed to study with world-renowned teachers in far-off places where she has enjoyed unplugging from the Western way of living, fully embracing the yogic lifestyle and immersing herself in her practices.
Dates:
| | | | | |
| --- | --- | --- | --- | --- |
| 1. | 19/08/2023 | 09:30 - 18:30 | Bösendorferstraße 9, 1010 Wien | Joan Hyman |
| 2. | 20/08/2023 | 09:30 - 18:30 | Bösendorferstraße 9, 1010 Wien | Joan Hyman |
| 3. | 21/08/2023 | 09:30 - 18:30 | Bösendorferstraße 9, 1010 Wien | Joan Hyman |
| 4. | 22/08/2023 | 09:30 - 17:30 | Bösendorferstraße 9, 1010 Wien | Joan Hyman |
| 5. | 23/08/2023 | 09:30 - 18:30 | Bösendorferstraße 9, 1010 Wien | Joan Hyman |
| 6. | 24/08/2023 | 09:30 - 18:30 | Bösendorferstraße 9, 1010 Wien | Joan Hyman |
| 7. | 25/08/2023 | 09:30 - 18:30 | Bösendorferstraße 9, 1010 Wien | Joan Hyman |
| 8. | 26/08/2023 | 09:30 - 18:30 | Bösendorferstraße 9, 1010 Wien | Joan Hyman |
| 9. | 27/08/2023 | 09:30 - 18:30 | Bösendorferstraße 9, 1010 Wien | Joan Hyman |
| 10. | 08/09/2023 | 16:30 - 20:30 | Bösendorferstraße 9, 1010 Wien | Joan Hyman |
* All prices including VAT