Tantra and the Yoga Sutras
Starts on Friday, 09/06/2023
Price 400.00 €
Description:
The Yoga Sutras from Patanjali are some of the oldest scriptures on yoga, written as aphorisms, (short sayings or proverbs,) which have layers and layers of meaning within the lines. The Sankhya Philosophy, a dualistic perspective, was very popular at the time so many see the Sutras as a dualistic text. However, there is a strong presence of Tantra, a non-dualistic perspective, woven throughout the scripture. This course takes students through the first three chapters to clarify any misunderstandings and then to see the Tantric messages woven within the lines.
The great concept of Samadhi will be illumed, clarity will be brought to complicated verses, and Tantric practices will be taught that support the text's messages. Each day will open with an hour and half of asana, pranayama and meditation that supports the day's themes. You will learn how the messages of the Sutras apply to our practice and to our life off the mat. There will be group discussion, stories, and inner discovery; all mixed with lots of humor. Afternoon sessions will close with Pranayama and Meditation practices influenced by the lessons learned. You will leave with a newfound appreciation for this scripture as a resource for living life meaningfully.
For more infos check our website: https://yogakula.at/events/jeanne-heileman
Trainer :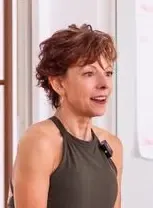 Jeanne Heileman (EN)
Jeanne Heileman. – MA, 500-ERYT, YACEP, Founder of Tantra Flow Yoga™, Jeanne brings together more than 36 years of yoga study with over 25 years of teaching into a style of yoga inclusive of asana, Ayurveda, Pranayama, meditation, and the added focus of cultivating energy. She has studied extensively in ParaYoga, Ashtanga, Iyengar, Anusara, ParaYoga, Vini and Tantra Yoga with many masters in each tradition. Jeanne teaches with sensitivity, generosity of spirit and a lot of humor. She specializes in discovering the needs of an individual and gently guiding students to their own grace and balance. Jeanne's classes weave attention on alignment and play through the poses, usually following a specific theme. Borrowing from her rich history of study and practice, you will be guided through intelligent, creative sequencing. We break out of the box, wisely. Each flow class often opens with a short Pranayama session that sets the tone for the rest of the class. Tantric elements will be woven in secretly as we work on a specific pose or set of actions throughout the class. Our main goal is to move, breathe, and explore space with our bodies. Based in Los Angeles, she is often found traveling the globe teaching trainings, workshops and master classes.
Dates:
| | | | | |
| --- | --- | --- | --- | --- |
| 1. | 09/06/2023 | 09:00 - 16:00 | Bösendorferstraße 9, 1010 Wien | Jeanne Heileman (EN) |
| 2. | 10/06/2023 | 09:00 - 16:00 | Bösendorferstraße 9, 1010 Wien | Jeanne Heileman (EN) |
| 3. | 11/06/2023 | 09:00 - 16:00 | Bösendorferstraße 9, 1010 Wien | Jeanne Heileman (EN) |
* All prices including VAT