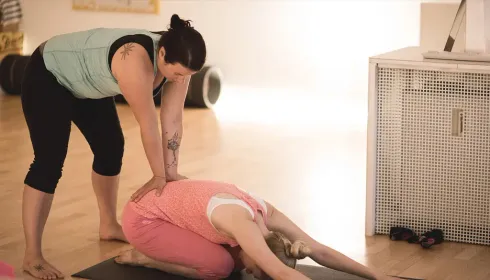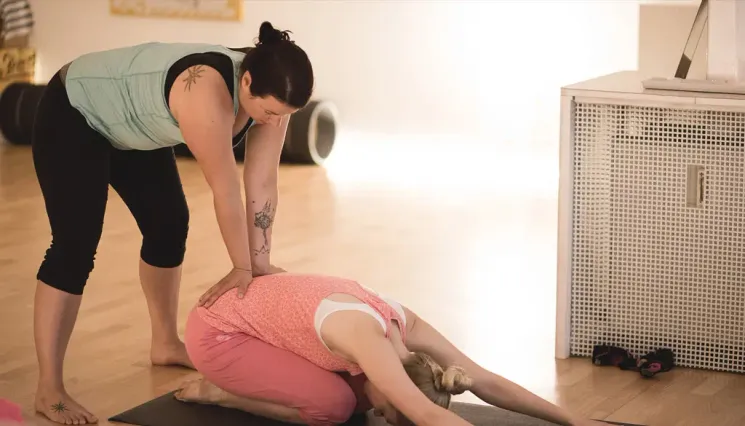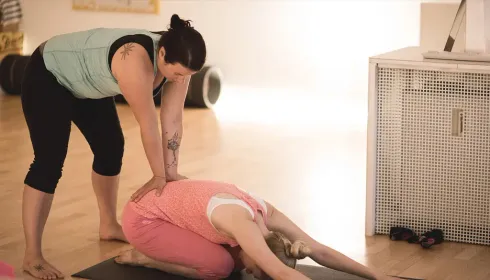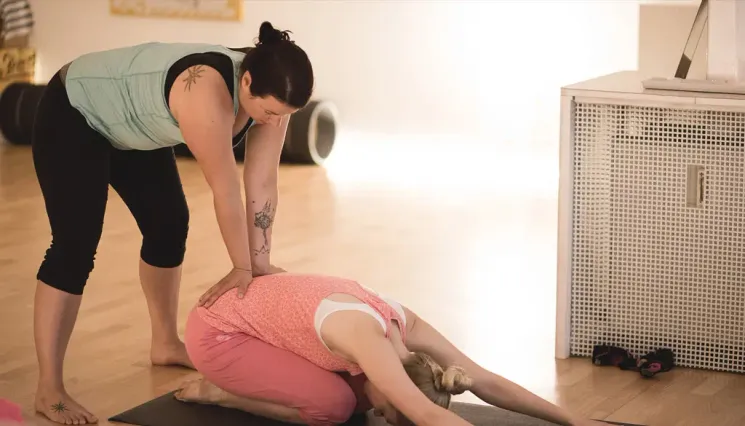 Sweet Release – Dynamisches Faszienyoga
Die Faszien sind das Bindegewebe, das unseren gesamten Körper durchzieht. Wenn sie verklebt sind, führt das zu Beschwerden - sehr oft spüren wir das im Nackenbereich und im unteren Rücken. Während natürlich in jeder Yogastunde auch die Faszien stimuliert werden, sind sie bei Sweet Release die Stars und stehen im absoluten Mittelpunkt. Die Asanas werden in verschiedenen Winkeln und von der klassischen Haltung abgewandelt ausgeführt, es gibt pulsierende und federnde Bewegungen, die die Verklebungen lösen und für Wohlbefinden und ein inneres Strahlen sorgen.
Date
Tuesday, October 17, 2023
Time
08:30 AM - 09:30 AM
(60 min)
There is an online stream available for this activity. To participate, take the following steps:
This studio uses Zoom as their online streaming provider. Download the according app to your laptop, tablet or smartphone

Access to the online livestream is available 15 minutes before the start of the activity. Simply go to "My bookings" and click on "Join online stream now" to be redirected to the corresponding page

With some streaming providers (e.g. Zoom) it is possible for participants to see each other. However, it is theoretically possible to deactivate the camera function. The name you enter when entering the online meeting room is displayed to other participants. However, you can always change your name (e.g. only the initials). Please note: Individual rules for online participation may apply for each class or venue.
Teacher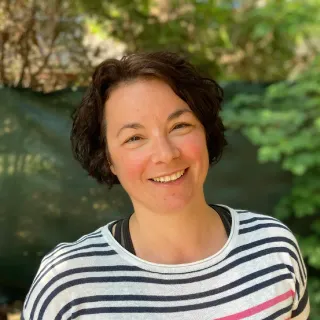 Doris
About
Senior Yoga Teacher • Dipl. Physiotherapeutin • Zert. Yoga Personal Trainer
Pricing options
| | | |
| --- | --- | --- |
| €10.00 | Schnuppereinheit | |
| €20.00 | Schnupperwoche (Studio & Online) | |
| €30.00 | Schnuppercard | |
| €14.00 | Drop In ermäßigt (Unter 27, AMS, Eltern in Karenz) | |
| | Drop In | |
| €130.00 | 10er Card ermäßigt (Unter 27, AMS, Eltern in Karenz) | |
| | 10er Card | |
| €255.00 | YogaFUN ☻ ermäßigt für Eltern in Karenz, alle unter 27 u. Arbeitssuchende | |
| | YogaFUN ☻ | |
| €349.00 | YogaPASSION ★ ermäßigt für alle unter 27 u. Arbeitssuchende | |
| €425.00 | YogaPASSION ★ ermäßigt für Eltern in Karenz | |
| | YogaPASSION ★ | |
| €579.00 | YogaLOVE ♥ U27 Schnupperaktion | |
| €629.00 | YogaLOVE ♥ für alle unter 27 u. Arbeitssuchende | |
| €799.00 | YogaLOVE ♥ ermäßigt für Eltern in Karenz | |
| €869.00 | YogaLOVE ♥ Schnupperaktion | |
| | YogaLOVE ♥ | |
| | YogaLOVE ♥ ermäßigt | |
| | YogaPASSION ★ ermäßigt | |
| | YogaLOVE ♥ ermäßigt | |
| | YogaPASSION ★ ermäßigt | |
| | YogaFUN ☻ ermäßigt | |
| | YogaLOVE ♥ | |
| | YogaFLEX ☀︎ ermäßigt | |
| | YogaPASSION ★ | |
| | YogaFUN ☻ | |
| | YogaFLEX ☀︎ | |
Date
Tuesday, October 17, 2023
Time
08:30 AM - 09:30 AM
(60 min)