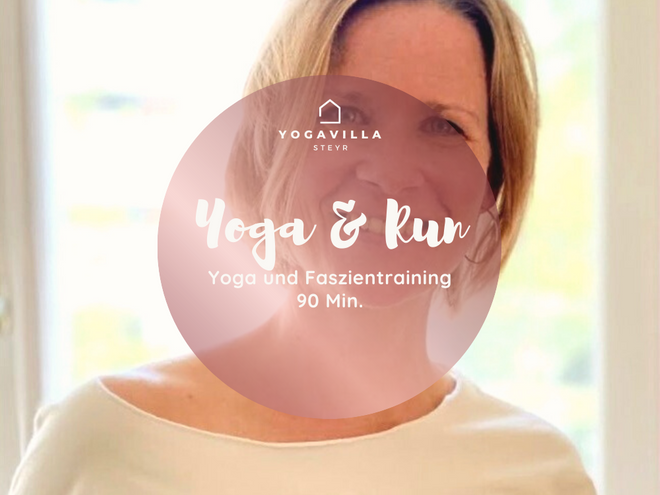 Yoga & Run - Faszientraining (90 Min.)
Video
Facility/Studio
Yoga Villa Steyr
Availability after purchase
Unlimited availability
Price
10.00 €
Single ticket
0.00 €
5 Tage unlimited online - Schnupperangebot
8.00 €
Einzelticket online
15.00 €
1 Woche unlimited online
35.00 €
5er Block online
35.00 €
1 Monat unlimited online
70.00 €
30 Tage unlimited Yoga
95.00 €
1 Monats-Abo
110.00 €
Sommer-Karte
438.00 €
MERKUR Versicherte Kooperation 4 Monate Special Abo for free
85.00 €

/ month

1 Jahres-Abo (Smile Pass)
95.00 €

/ month

1 Monats-Vertrag
About the class
Yoga und Laufen verbindet sich sehr gut. Was erwartet Dich? Eine sportlich orientierte Yogasession für Läufer mit der wundervollen Alexandra aus Dornbirn. Alexandra ist Yogalehrerin und Physiotherapeutin. Zudem ist sie als Anatomie Dozentin in der Schweiz und auch bei unserer Yogalehrer Ausbildung trees and stories tätig.
Freu Dich auf geballtes Wissen und Freude am Yoga und Laufen.
In dieser Yoga Einheit wurde der Aufbau und die Asanas so aufeinander abgestimmt, dass sowohl die für LäuferInnen typische Überbelastungen und Verletzungsrisiken minimiert, als auch die Laufbewegung aufgrund von Kriterien der funktionellen Laufanalyse optimiert werden können.
Dabei spielen die innere Aufrichtung und Stabilität eine wichtige Rolle. Genauso wie ein mobiler und stabiler Rumpf mit effektiven Armeinsatz, Hüftbeweglichkeit in Richtung mehr Hüftöffnung. Unter Berücksichtigung der myofaszialen Linien wird in einigen Asanas federnd und elastisch "gespielt".
All diese Techniken sollen dir helfen eine optimierte Laufbewegung zu finden und auch mehr Leichtigkeit und Freude beim Laufen zu spüren.
About the trainer/teacher
 Alexandra ist Physiotherapeutin, Yogalehrerin, Anatomie Dozentin bei unserer Yogalehrer Ausbildung trees and stories sowie begeisterte Läuferin.