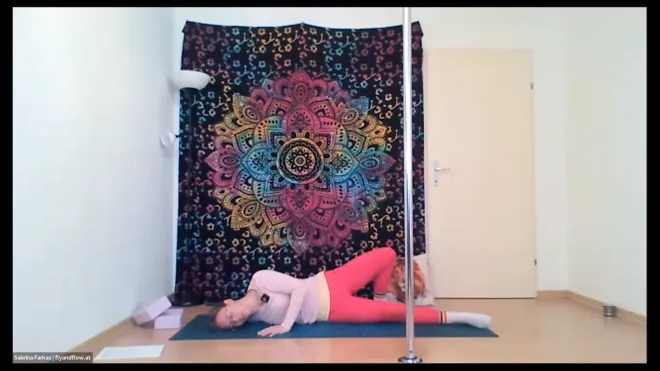 Yin Yoga zur Visualisierung
Video
Facility/Studio
Fly & Flow
Availability after purchase
Unlimited availability
This video is currently not available for purchase.
Price
| | |
| --- | --- |
| 0.00 € | Freie Spende für das Tierheim Baden |
About the class
In dieser Yin Yoga Klasse widmen wir uns unseren Träumen und Wünschen mit einigen Affirmationen zur Visualisierung. Wir verweilen etwa drei Minuten in jeder Position - nimm hierfür gerne Hilfsmittel wie Blöcke/Bücher, Yogabolster/Kissen, Gurt/Schal und eine Decke zur Hand und ziehe dich etwas wärmer an als zu aktiveren Stunden.
Playlist: https://open.spotify.com/playlist/1ZQpnq9LYBXDeZeSDDiB5U?si=59cb76316ee44dca
Die Klasse ist Teil des Fly & Flow Online Yoga Festivals. Diese und alle weiteren Einheiten und Vorträge des Tages findest du auch auf meinem YouTube Kanal.
About the trainer/teacher
Sabrina unterrichtet seit dem Jahr 2018 Luftakrobatik. Dank ihrer Multi Style Yogalehrer Ausbildung und einer Inside Flow Fortbildung bietet sie nun auch eine vielfältige Auswahl an Yogakursen in Wien, online und auf Retreats an: Aerial Yoga, Dance Yoga / Inside Flow, SUP Yoga, Vinyasa Yoga, Yin Yoga u.v.m.! Zusätzlich zu den Gruppenkursen steht Sabrina auch gerne für Privatstunden zur Verfügung.