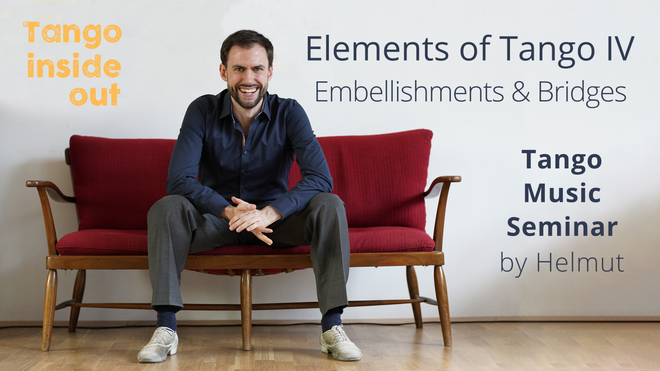 Elements of Tango IV: Embellishments & Bridges
Video
Facility/Studio
Tango Inside Out
Availability after purchase
Unlimited availability
Price
| | |
| --- | --- |
| 20.00 € | Single ticket |
| 10.00 € | Your first video | Special Promo |
| 60.00 € | 3 Month Video Pass |
| 100.00 € | 10 videos (Couples, Solo, Yoga + Pilates, Music Seminar) |
About the class
90 min, Zoom recording of the session on 8 March 2021.
What is an embellishment (in music)? What is a bridge? What effects does it have for our dance?
Short examples of 9 different pieces: Vida mía, El flete, Patotero sentimental, Tres Esquinas, Comme il faut, En esta tarde gris, La bruja, Dichas que viví, Sin palabras.
One detailled comparison of Verdemar between the recordings of Di Sarli and Caló.