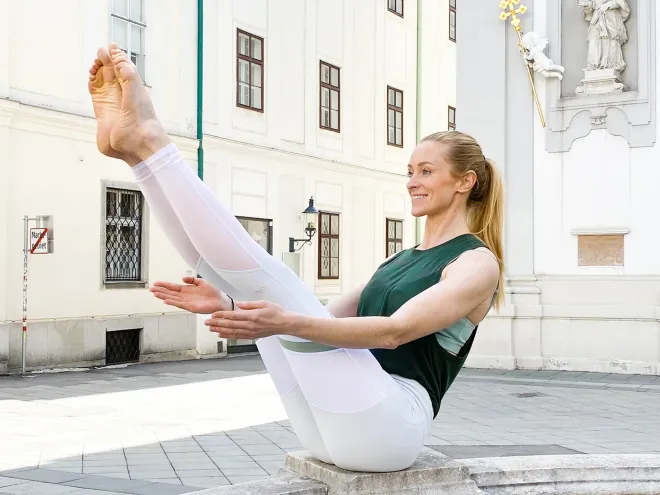 Basic to Open 60 (Hammer Hamstrings mit Vicky) - Video on Demand
Video
Facility/Studio
doktor yoga Online (Livestreams)
Availability after purchase
48 hours
Price
17.00 €
Single ticket
50.00 €
Schnuppermonat (30 Tage unlimitiert Yoga - ohne Leihmatte, nur für Neukunden)
160.00 €
10er Block
85.00 €

/ month

Laufzeitvertrag regulär €85
About the class
60 Minuten Basic to Open Klasse mit Viktoria. Diese Klasse ist für alle Kunden mit Laufzeitverträgen kostenlos nutzbar.
About the trainer/teacher
Die Gründerin von doktor yoga sieht auf ein Leben zurück, das so facettenreich wie Yoga ist: Betriebswirtin, Model, Yogalehrerin. Erfahrungen, die der Oberösterreicherin auf ihrem Weg stets neue und spannende Wege gezeigt haben. Ob "klassischer" oder "kreativer Beruf" - vier Dinge zählen für sie: Leidenschaft, Spaß an der Sache, voller Einsatz und Freude an der Zusammenarbeit mit anderen Menschen. Kein Wunder also, dass sie ihre Begeisterung für Yoga mit Hilfe renommierter, internationaler Lehrerinnen und Lehrern so intensiv vertiefen konnte, dass sie Yoga nun ganz einfach leben kann. Seit 2011 ist Viktoria zertifizierte Yogalehrerin und gibt ihr Wissen sowie ihre Leidenschaft als Expertin an ihre Schülerinnen und Schüler weiter. Gerade ihr weites Spektrum an Berufserfahrungen hilft ihr dabei, die Bedürfnisse ihrer Schülerinnen und Schüler genau zu verstehen und damit deren ganz persönliches Yoga-"Programm" zu finden.