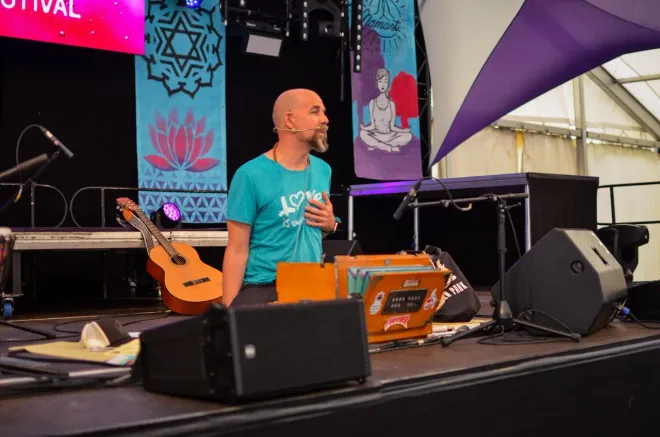 Jaya Shiva Shankara. How to play Harmonium Mantra
Video
Facility/Studio
Bhakti Vinyasa Yoga
Availability after purchase
Unlimited availability
Price
2.50 €
Single ticket
59.00 €

/ month

Hybrid Abo
65.00 €

/ month

Flatrate Abo
About the class
Mantra:Jaya Shiva Shankara Bam Bam Hare Hare
Wenn Du mit dem Harmonium in Berührung kommen und Kirtan privat oder als Yogalehrer/in in Deine Praxis integrieren möchtest, bist Du bei Marco goldrichtig.
Mit großer Freude unterrichtet Marco Harmonium und Mantra in Privatstunden und Workshops deutschlandweit.
sowohl für Anfänger als auch Fortgeschrittene
individuelle Absprachen zu Lerninhalten möglich
Auswahl der Mantren die du lernen möchtest, kannst du selbst bestimmen
Gestaltung von Mantrayogastunden
Infos zu Harmoniumkauf und Privatstunden in Köln:
https://marcobuescher.de/harmoniumunt...
About the trainer/teacher
MARCO ist Deutsch-Amerikaner und lebte in seiner Kindheit für 3 Jahre im tibetisch-buddhistischen Kamalashila Kloster in der Eifel. Er ist praktizierender Buddhist in zweiter Generation und studierte in den USA "Contemplative Psychology and Buddhism" an der Naropa University in Boulder, Colorado. Seit 1999 ist er Schüler des tibetischen Meditationslehrers Jigme Khentse Rinpoche und lernte u.a. mit dem vietnamesischen Zen-Lehrer Thich Nhat Hanh und dem Dalai Lama, deren Achtsamkeits-Lehren ihn sehr beeindrucken. Hinzu kommen diverse Ausbildungen in verschiedenen buddhistischen und yogischen Traditionen und die Inspirationen durch die Yogalehrerinnen Dana Trixie Flynn, Katchie Ananda und Ursula Lyon. So sind seine Yoga-Stunden, Workshops und Seminare eine ganz besondere Erfahrung basierend auf einem großen fundierten Erfahrungsschatz in Kombination mit ganz viel Herz und Mitgefühl. Als Gründer der Yoga-Lehrer-Community-Köln sorgt Marco für die Vernetzung und den Erfahrungsaustausch der Kölner Yogalehrer. Mit Harmonium-Unterricht, Beratung und Verkauf gibt er sein Wissen rund um Harmonium-Musik und Kirtan gerne weiter. In allen vier Yoga Vidya Ashrams unterrichtet Marco im Rahmen diverser Yogalehrer-Ausbildungen und gibt Seminare und Kirtans deutschlandweit. Marco ist es ein Herzensanliegen, Menschen auf ihrem Weg zu mehr Klarheit, Leichtigkeit und Selbstfürsorge zu begleiten.