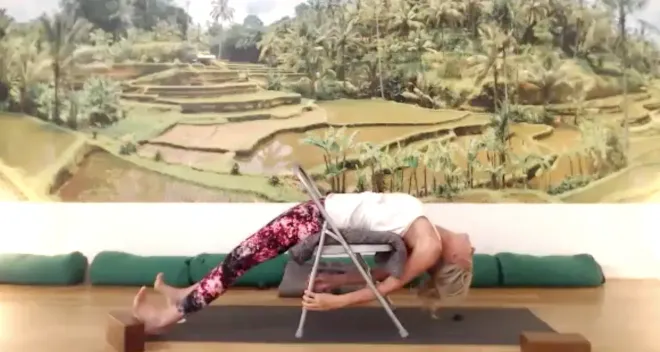 Solar Plexus - Bali Yoga with Beate - Online Replay
Video
Availability after purchase
72 hours
Price
5.00 €
Single ticket
14.00 €
Online Drop-in 75-90 min
70.00 €
Online 5 Pack
80.00 €
Online Monthly Card
120.00 €
Online 10 Pack
69.00 €

/ month

The Freedom Pass
About the class
Diese 60 min Yogapraxis mit Beate ist auf Englisch und wurde im Bali Yoga Wien Studio, Wien aufgenommen.
This 60 min yoga practice with Beate is in English and was recorded in the Bali Yoga Wien Studio, Vienna.
---
Beate: "Es ist für mich essentiell, Yoga über die körperlichen Übungen (Asanas) hinaus zu lehren und auf aktuelle Ereignisse und Herausforderungen zu antworten, indem ich auf alte yogische & kontemporäre Philosophien & Lehren zurückgreife, die als Thema in die regelmässige Praxis eingewoben werden; gefolgt von Stille in Meditation (Dhyana), Absichtsbildung, Selbstreflexion, Pranayama (Atemtechniken) und Sanskrit Chanting. Wenn wir Körper und Geist beruhigen, sehen wir die Ereignisse in unserem Leben mit ausgeprägter Klarheit und können klügere Entscheidungen treffen, besser für uns und andere sorgen und innere Stabilität finden.
Die körperliche Praxis – asanas – ist eine eklektische Mischung aus einer Vielzahl von Yoga-"Stilen": Hatha Yoga (hauptsächlich auf der Basis von Iyengar Yoga), Intuitiver Vinyasa Flow, Yoga für den Rücken, Liquid Yoga, Free Movement, Tanz, Bali Yoga Bootcamp (Fitness kombiniert mit Asanas), Restoratives Yoga, Therapeutisches Yoga und Kundalini Yoga Snippets. Ich liebe es, gewissenhafte Körperausrichtung und therapeutisches Yoga mit freier Bewegung und Tanz zu synchronisieren, um die Architektur des Körpers wiederherzustellen und gleichzeitig beide Gehirnhälften und die Körpersysteme jedes Einzelnen anzuregen. "
in English
"it is essential for me to teach yoga through and beyond physical exercises (asanas) responding to current events and challenges by drawing from ancient yogic & contemporary philosophies & teachings, which are woven into a theme for each practice, followed by stillness through meditation (dhyana), intention-setting, self-reflection, pranayama (breathing techniques) and Sanskrit chanting. When we soothe body & mind, we see occurrences in our lives with pronounced clarity and can make wiser decisions, take better care of ourselves & others and find stability within.
The physical practice – asanas – is an eclectic fusion of a diverse array of yoga "styles": Hatha Yoga (mainly alignment and Iyengar Yoga based), Intuitive Vinyasa Flow, Yoga for Your Back, Liquid Yoga, Free Movement, Dance, Bali Yoga Bootcamp (fitness combined with asanas), Restorative Yoga, Therapeutic Yoga and Kundalini Yoga Snippets. I love to synchronise intricate body alignment and therapeutic yoga with free movement and dance seeking to restore the body's architecture while simultaneously balancing both sides of the brain and each individual's body systems."
About the trainer/teacher
Gründer Bali Yoga Wien, Bali Yoga & Wellness, Bali Villa Management Beate ist aus Innsbruck, war aber fast 30 Jahre im Ausland und davon über 22 Jahre in Bali. Ihr "Inselerlebnis" erweckte viele Leidenschaften: von Innenarchitektur über Villenbau und -management bis zu gesunder Ernährung, alternativen Heilmethoden und natürlich ... Yoga! Ihr Yoga basiert auf einer Mischung zwischen Iyengar Yoga (das sie mit dem Seniorlehrer Olop Arpipi in Indonesien seit über 20 Jahren intensiv praktiziert), therapeutischem Yoga und intuitivem Vinyasa Flow. Wichtig ist ihr Yoga über die Asanas (Körperübungen) hinaus zu unterrichten. "Yoga ist mehr wie ein Handstand.