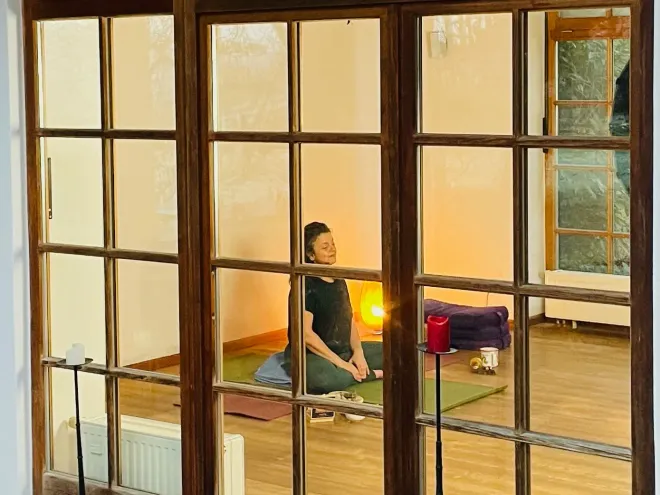 Let it flow, very slow - Vin to Yin mit Romana
Video
Facility/Studio
Yogawerkstatt
Availability after purchase
48 hours
Price
| | |
| --- | --- |
| 12.00 € | Single ticket |
| 12.00 € | OM-line Drop-In 1-er Karte (nur für online Live Klassen) |
| 15.00 € | _Schnupperstunde (2 x in 7 Tagen) |
| 16.00 € | Einzelstunde ermäßigt |
| 18.00 € | Einzelstunde (1 x Yoga) |
| 65.00 € | 1 Woche Unlimited, ermäßigt |
| 70.00 € | 1 Woche Unlimited |
| 80.00 € | 5er Block Yoga, ermäßigt |
| 85.00 € | 5er Block Yoga |
| 100.00 € | OM-line 10er Karte (nur für online Live Klassen) |
| 105.00 € | 1 Monat Unlimited, ermäßigt |
| 110.00 € | 1 Monat Unlimited |
| 150.00 € | 10er Block Yoga, ermäßigt |
| 160.00 € | 10er Block Yoga |
| 260.00 € | 20er Block Yoga, ermäßigt |
| 280.00 € | 20er Block Yoga |
About the class
Romana hat gestern eine sanfte Vinyasa to Yin Einheit für Euch aufgenommen. Ideal um sich in Mitten der Weihnachtlichen Festivitäten ein wenig Zeit und Entspannung zu gönnen.
About the trainer/teacher
Romana übt und unterrichtet seit vielen Jahren Yoga. Ihre liebevolle Weisheit, weibliche Urkraft und Authentizität drücken sich nicht nur in ihrem Wesen sondern auch in ihrem Unterricht aus. Expect to feel Love & Connection.