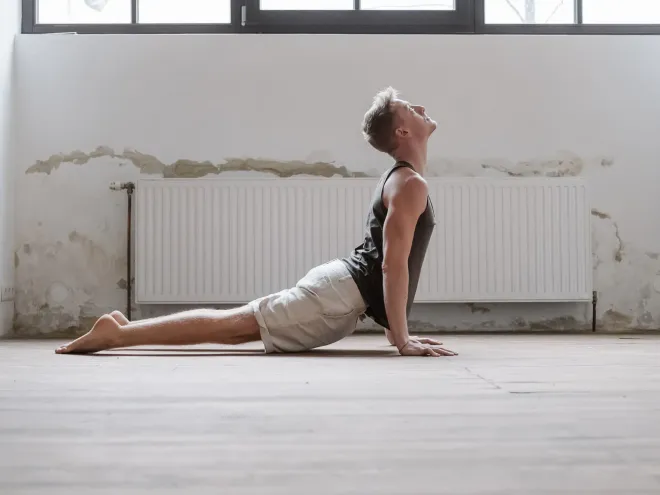 Basic to Open 30 (Solar Flow - Energize & Refresh) - Video on Demand
Video
Facility/Studio
doktor yoga Online (Livestreams)
Availability after purchase
48 hours
Price
9.00 €
Single ticket
50.00 €
Schnuppermonat (30 Tage unlimitiert Yoga - ohne Leihmatte, nur für Neukunden)
85.00 €

/ month

Laufzeitvertrag regulär €85
About the class
30 Minuten Basic to Open Klasse mit Manuel. Diese Klasse ist für alle Kunden mit Laufzeitverträgen kostenlos nutzbar.
About the trainer/teacher
Yoga tauchte in Manuels Leben zwar immer mal wieder auf, doch erst 2015 entflammte die Leidenschaft dazu so richtig: als Neujahrsvorsatz nahm er sich vor, regelmäßig zu üben und befand sich bald täglich auf der Matte. Was zunächst nur ein guter Vorsatz war, entfaltete schnell eine unglaubliche Wirkung, die sein Leben und die bisherigen Pläne auf den Kopf stellen sollte. "Ich erlebte ganz neue Qualitäten von Entspannung, Achtsamkeit und Lebensfreude, wie ich es zuvor noch nicht kannte. Ich hatte das Gefühl, zum ersten Mal in meinem Leben wirklich zu atmen und den Augenblick bewusst wahrzunehmen", so Manuel. Aus dem Wunsch heraus die Wirkung des Yoga besser zu verstehen begann er 2016 sein 200h Yoga Teacher Training. Mit Freude, Kreativität und Begeisterung unterrichtete Manuel seitdem immer häufiger, bis er 2018 den großen Sprung wagte und ganz in das Berufsleben als Yogalehrer eintauchte. Stets darauf bedacht sein Wissen zu vertiefen besucht Manuel regelmäßig Weiterbildungen und Workshops und absolviert zurzeit das 500h Yoga Teacher Training.