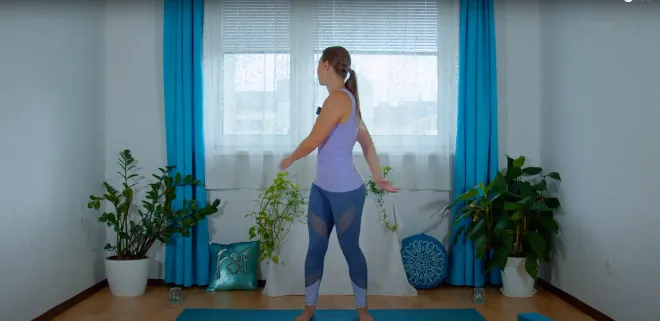 Yoga zum Verzeihen
Video
Facility/Studio
Fly & Flow
Availability after purchase
Unlimited availability
This video is currently not available for purchase.
About the class
Entsprechend ihrem Enneagramm Typen sind Menschen typischerweise auf bestimmte Reaktionen fixiert, was Dinge angeht, die ihre Aufmerksamkeit anziehen. Die Klassiker sind: Groll, Schmeichelei, Eitelkeit, Melancholie, Geiz, Zweifel, Pläne machen, Rache und Selbstvergessenheit. Mach' dir während deiner Praxis bewusst, dass es einerseits ganz normal ist, dass du selbst und deine Mitmenschen so reagieren. Andererseits rufe dir aber auch in Erinnerung, dass du, sobald du selbst erkennst, dass du gerade auf deine typspezifische Art reagierst, dich frei entscheiden kannst, eine andere Reaktion an den Tag zu legen. Und wenn du es erst "zu spät" bemerkst, dann verzeihe dir dafür. Und genau deshalb kultivieren wir in diesem Flow das Verzeihen.
Dieses Video ist der vierte Teil von Yoga & Selbsterkenntnis, einem achtwöchigen On Demand Online Yoga Kurs für Anfänger und Fortgeschrittene. Im Kurs lernst du nicht nur die wichtigsten Asanas (Yogaübungen), sondern auch dich selbst besser kennen.
Du kannst über Eversports alle Kursvideos einzeln oder als Paket beziehen. Wenn du zusätzlich zu den wöchentlichen Yogavideos begleitend regelmäßige Impulse für deinen Alltag per E-Mail erhalten möchtest, melde dich über meine Website zum gesamten Kurs an: https://flyandflow.at/yoga-selbsterkenntnis/
About the trainer/teacher
Sabrina unterrichtet seit dem Jahr 2018 Luftakrobatik. Dank ihrer Multi Style Yogalehrer Ausbildung und einer Inside Flow Fortbildung bietet sie nun auch eine vielfältige Auswahl an Yogakursen in Wien, online und auf Retreats an: Aerial Yoga, Dance Yoga / Inside Flow, SUP Yoga, Vinyasa Yoga, Yin Yoga u.v.m.! Zusätzlich zu den Gruppenkursen steht Sabrina auch gerne für Privatstunden zur Verfügung.