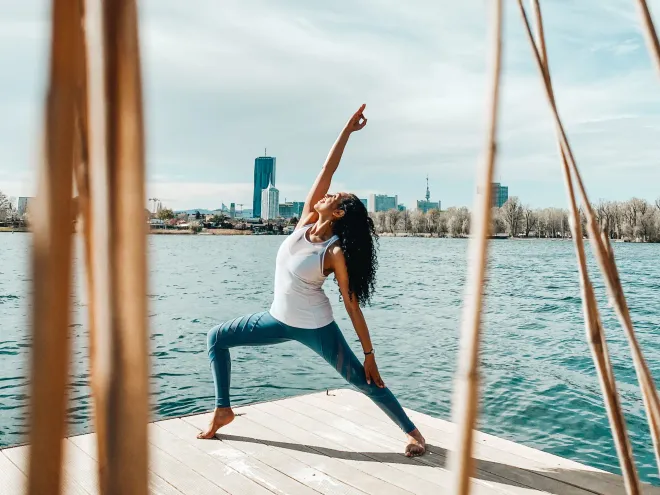 Basic to Open 60 (Side Body Strength) - Video on Demand
Video
Facility/Studio
doktor yoga Online (Livestreams)
Availability after purchase
48 hours
Price
17.00 €
Single ticket
50.00 €
Schnuppermonat (30 Tage unlimitiert Yoga - ohne Leihmatte, nur für Neukunden)
160.00 €
10er Block
300.00 €
90 Tage regulär
85.00 €

/ month

Membership regulär €85
90.00 €

/ month

Membership 3 Monate 90 € - monatlich kündbar
About the class
60 Minuten Basic to Open Klasse mit Jazz. Diese Klasse ist für alle Kunden mit Laufzeitverträgen kostenlos nutzbar.
About the trainer/teacher
"Yoga hat nichts mit Leistung zu tun. Yoga hat nur mit dir selbst zu tun." Die sympathische Kolumbianerin Jazz entdeckte 2011 ihre Leidenschaft für Yoga: "Es war Liebe auf den ersten Blick" meint sie und daher absolvierte sie gleich locker flockig 100 Tage Bikram Yoga am Stück. Das war ihr dann rasch zu fad und so lernte sie unterschiedliche Stilrichtungen kennen und besuchte verschiedene Workshops im Ausland. Mit dem Ziel, ihren Job am Flughafen nach 12 Jahren an den Nagel zu hängen und ihre Leidenschaft, Yoga, zum Beruf zu machen, absolvierte sie schließlich ihre Ausbildung in Indien. Neben Vinyasa Flow und Hatha Yoga unterrichtet Jazz auch spezialisierte Klassen für Schwangere. Das Allround-Talent spricht fließend Spanisch, Deutsch und Englisch.