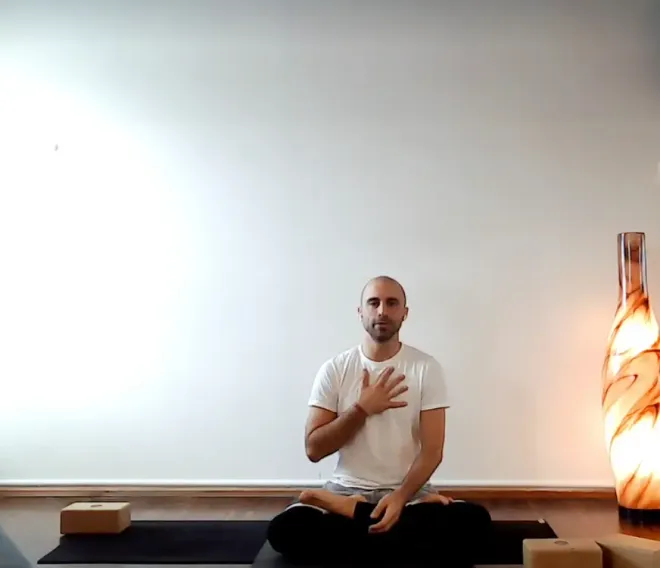 Yoga & Covid19 - Teil 3 - Kräftigung & Regeneration
Video
Facility/Studio
Feelgoodstudio 1040 " Movement / Vritti "
Teacher
Knut Rakus (DE,EN)
Availability after purchase
24 hours
Price
10.00 €
Single ticket
95.00 €
5er Block / 5 Class Pass
95.00 €
Online 10er Block / 10 Class Pass
108.00 €
10er Block NeukundIn (nur für NeukundInnen)
128.00 €
Feelgood-DETOX 10 Tage ONLINE
160.00 €
10er Block / 10 Class Pass
300.00 €
20er Block / 20 Class Pass
1,090.00 €
365 Tage Unlimitiert / 365 Days Unlimited
58.00 €

/ month

Feelgood Unlimited ONLINE Membership
99.00 €

/ month

Feelgood Unlimited Membership
About the class
Im dritten Teil der Reihe "Yoga & Covid19" setzen wir den Aufbau, das "Wieder-Erstarken" und die Förderung der Beweglichkeit fort.
Die Klasse umfasst Übungen, die Du üben kannst, wenn die intensive Phase Deiner Erkrankung bereits hinter Dir liegt, Du aber z.b.: noch in Quarantäne zu Hause bist, also ungefähr ab Tag 7. Dabei wird auch besonders darauf Wert gelegt, dass Du jedwede Übung an Deine momentane Verfassung anpassen kannst. Die Übung werden Dich anfangs fordern, sollen Dich aber niemals überfordern - mit der Zeit werden sie leichter:)
Neben den Körperübungen, etwa zur Stärkung des Lendenbereiches, konzentrieren wir uns vor allem auf Atemübungen, um Deine Lungenfunktion bzw. das Atemvolumen zu stärken.
Knut erkrankte selber an Covid19, alle Übungen und Inhalte dieses Videos basieren auf seinen Erfahrungen.
Disclaimer: die Inhalte dieses Videos sind in keinster Weise als allgemeingültige Therapie zu verstehen und ersetzen keinesfalls Rat/Diagnose/Therapie Deines Arztes bzw. Deiner Ärztin.
About the trainer/teacher
2003 nahm Knut das erste Mal an einer Yogastunde teil. 4 Jahre später eröffnete er, gemeinsam mit seiner Frau Julie, das Feelgoodstudio. Yoga ist für ihn heute ein zentraler Bestandteil seines Alltags, der ihm hilft die täglichen Herausforderungen zu meistern. Seine regelmäßige Praxis gibt ihm Kraft für seine Rolle als Vater, Manager, Reisejunkie und Eigentümer mehrerer Yogastudios. Knut unterrichtet seit 2007 intensive Einheiten, in denen die körperliche Anstrengung jedoch nur Begleiteffekt sein soll. Fordernde Asanas zwingen unseren Geist zu maximaler Präsenz und Fokus - wir kommen an im "HIER" und im "JETZT". Ganz nach den Sutren "atha yoga - anushasanam" (Jetzt ist YOGA - Yoga ist JETZT) und "shtira sukham asanam" (Asana als Technik die Fluktuation des Geistes zu zähmen) verfolgen seine Unterrichtsstunden das Ziel, die Übenden in den Moment zu bringen. Für Knut steht die Einzigartigkeit eines jeden Individuums im Vordergrund - entsprechende Förderung und persönliche Korrekturen liegen ihm daher besonders am Herzen. Einer seiner Schwerpunkte liegt daher auf Einzelunterricht - kontaktiere ihn unter knut@feelgoodstudio.at.