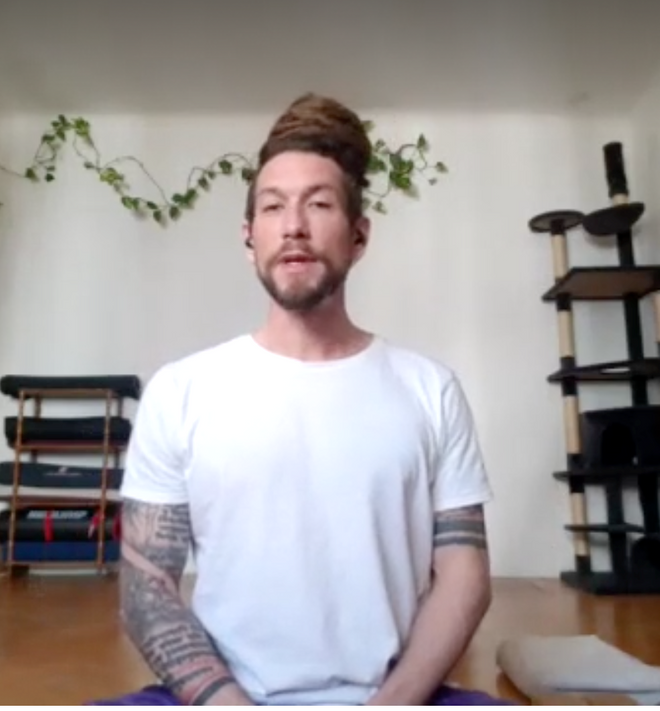 The ABC of Asana: Downward Facing Dog / Adho Mukha Svanasana
Video
Facility/Studio
Feelgoodstudio 1040 " Movement / Vritti "
Teacher
Benjamin Fink (DE,EN)
Availability after purchase
24 hours
Price
10.00 €
Single ticket
90.00 €
5er Block / 5 Class Pass
108.00 €
10er Block NeukundIn (nur für NeukundInnen)
128.00 €
Feelgood-DETOX 10 Tage ONLINE
160.00 €
10er Block / 10 Class Pass
165.00 €
Feelgood-DETOX 10 Tage UNLIMITED
300.00 €
20er Block / 20 Class Pass
54.00 €

/ month

Feelgood Limited Membership
58.00 €

/ month

Feelgood Unlimited ONLINE Membership
99.00 €

/ month

Feelgood Unlimited Membership
About the class
Downward Facing Dog or Adho Mukha Svanasana is one of the most common asanas in a yoga class. At the same moment it is also a pose we tend to rush through without paying too much attention and intention. This is rather sad as downward facing dog is truly one of the most beneficial and fascinating postures in the whole yoga asana canon.
In this video Benji, who s not only a yoga teacher but also a physio therapist, provides you with an in-depth view, different approaches and variations of this amazing asana. Have fun "re-discovering" your downward dog.
PS: our videos are like we are: "perfectly imperfect". Instead of being technically perfect, our videos are convincing in terms of detailed knowledge and experience.
About the trainer/teacher
Über den Kampfsport hat Benjamin 2010 nach einem längerem Thailandaufenthalt nach Indien und schließlich zum Yoga gefunden. Am Strand von Gokarna durfte er seine erste Yogastunde erleben. Den Einstieg, und nach kurzer Zeit auch die Yogalehrerausbildung, machte er im Shivananda Yoga Stil, wobei sich seine persönliche Praxis schnell weiter entwickelte und mittlerweile von Vielseitigkeit geprägt ist. Seine Begeisterung für Ashtanga Vinyasa Yoga führte ihn schon mehrere Male nach Mysore in Indien, wo er bei hervorragenden Lehrern üben durfte. Über die Jahre hat er verschiedenste Yogastile, wie Jivamukti oder Rocket Yoga, wie auch Thai Chi oder andere Körperpraktiken ausprobiert und lässt daraus diverse Elemente in seinen Unterricht einfließen. Benjamin hat Physiotherapie in Wien studiert und diese Ausbildung und seine tägliche Arbeit mit PatientInnen prägt auch seinen Unterricht und seine eigene Praxis. Durch diesen Hintergrund hat er, zumindest wenn es sich um Fragen zum Körper handelt, meist eine praktische Antwort. Heute unterrichtet er einen fordernden Vinyasa Stil mit speziellen Fokus auf Core -und Schulterstabilität, welche er gerne als "Ashtanga Supplement" bezeichnet. Dazu hat er eine eigene Sequenz entwickelt, welche er im Feelgoodstudio unterrichtet. Als Therapeut ist es ihm besonders wichtig, die Praxis an seine Schüler anzupassen und nicht umgekehrt. Benjamin unterrichtet momentan All Level Stunden und Acro Yoga. Mehr Infos findet ihr auf der Webseite: https://www.feelgoodstudio.at/project/benjamin/