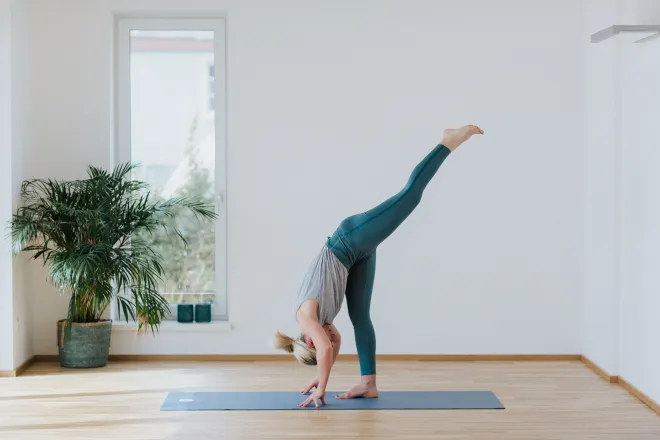 Hatha Yoga Flow: out of the box!
Video
Facility/Studio
You Yoga Studio
Availability after purchase
1 week
Price
12.00 €
Single ticket
25.00 €
Schnuppern 10 Tage 25 €
180.00 €
10er Block für 6 Monate
68.00 €

/ month

Jahres Mitgliedschaft
88.00 €

/ month

90 Tage-Mitgliedschaft
About the class
Öffne dich für neue Perspektiven und einen neuen Standard, ein neues Normal!
About the trainer/teacher
Lisa ist die Gründerin und Leiterin des You Yoga Studios. Sie leitet und unterrichtet auch die 200h Yogalehrer-Ausbildung im Studio und gründete die You Yoga Akademie als Ort für Yoga Weiterbildungen. Was bedeutet Yoga für dich? Yoga ist das nach Hause kommen zu mir selbst. Was erwartet die TeilnehmerInnen in deinen Yogastunden? Mein Yogastil ist eine Mischung aus Hatha Yoga, Anusara Yoga und therapeutischem Yoga. Meine Yoga Klassen sind daher bunt, dynamisch, ganzheitlich und ausrichtungsorientiert. Eine Mischung aus sanften mobilisierenden Bewegung wie auch kraftvollen und fordernden Übungen. Zusätzlich fließen in meine Yogaklassen Themen ein, die mich in meinem Leben begeistern: persönliche Weiterentwicklung, Spiritualität und Ayurveda. Eine Yogaklasse ist für mich dann rund, wenn Kraft und Leichtigkeit, Anspannung und Entspannung, genauso wie geistige Ausrichtung und körperliche Ausrichtung in Balance kommen.