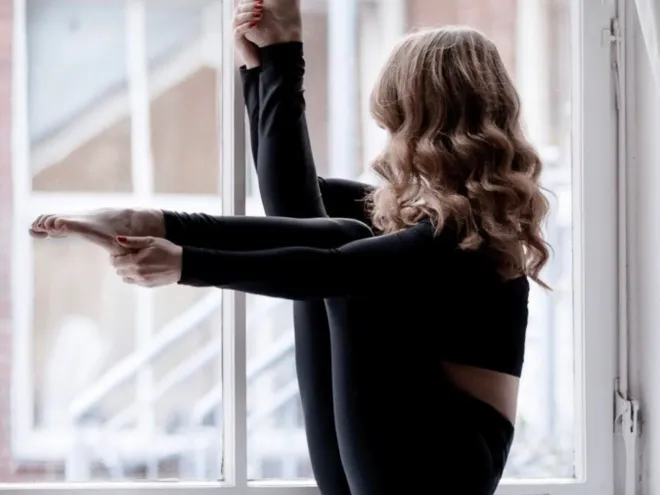 Aufzeichnung 2: Flexi Frontbends - Strong Legs, Long Spine, Brave Core
Video
Facility/Studio
FEEL GOOD FACTORY: Pole • Stretch • Fly
Availability after purchase
5 days
Price
15.00 €
Single ticket
29.99 €

/ month

FEEL GOOD FACTORY | Online Studio Abo
About the class
Aufzeichnung einer Live-ZOOM Stunde aus 2021.
Tiefe Vorbeugen bildet die Grundlage für zahlreiche Split-Variationen, erleichtern den sauberen Eingang in Figuren über Kopf (on & off the Pole) und haben darüber hinaus eine beruhigende Wirkung auf unser Nervensystem. Durch die gezielte Kräftigung von Quadrizeps, Bauch und Halsmuskulatur schaffen wir Länge in der gesamten Rückseite des Körpers. Let's flow through those forward folds!
About the trainer/teacher
Auf der Suche nach Ballettstunden entdeckte ich 2015 das Beweglichkeitstraining für mich. Fasziniert von der Veränderung des Körpergefühls und Vielseitigkeit des Workouts absolvierte ich im selben Jahr die erste Ausbildung zur Trainerin. Wenig später wurde meine Flexi-Liebe durch Pole Dance ergänzt. Die Kombination aus Körperspannung, Eleganz und Akrobatik begeistert mich wie keine andere Sportart zuvor. Gerade weil ich keinen tänzerischen Background habe, bin ich fest davon überzeugt, dass jeder mit Hilfe fundierter Techniken eine beeindruckende Bewegungsqualität entwickeln kann. Am Boden und in der Luft. Meine Unterrichtserfahrung und Eindrücke aus der Zusammenarbeit mit Artisten gebe ich leidenschaftlich gerne an meine Kursteilnehmerinnen weiter. Sie aus dem Alltag zu holen und beim Erreichen individueller Ziele zu unterstützen prägt meinen Beruf maßgeblich.