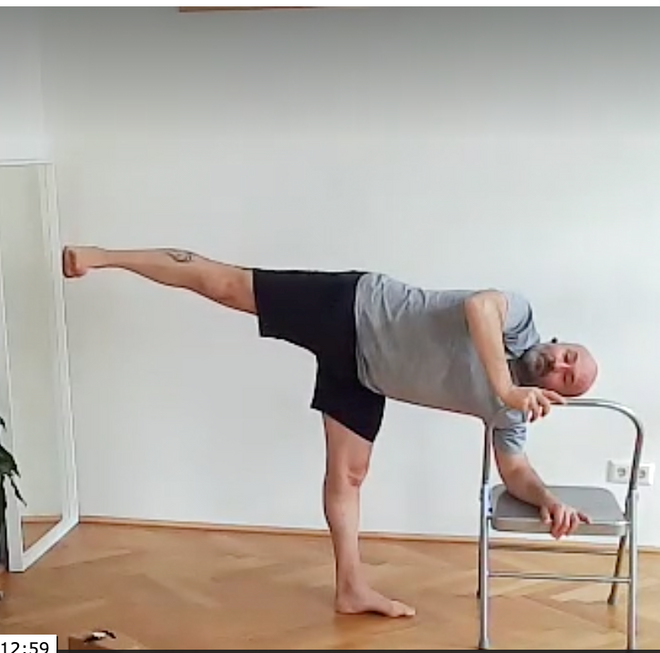 The ABC of Asana: Half Moon Pose = Ardha Chandrasana
Video
Facility/Studio
Feelgoodstudio 1040 " Movement / Vritti "
Teacher
Bruno Teyssandier (EN, FR)
Availability after purchase
24 hours
Price
10.00 €
Single ticket
90.00 €
5er Block / 5 Class Pass
95.00 €
Online 10er Block / 10 Class Pass
108.00 €
10er Block NeukundIn (nur für NeukundInnen)
128.00 €
Feelgood-DETOX 10 Tage ONLINE
160.00 €
10er Block / 10 Class Pass
165.00 €
Feelgood-DETOX 10 Tage UNLIMITED
300.00 €
20er Block / 20 Class Pass
54.00 €

/ month

Feelgood Limited Membership
58.00 €

/ month

Feelgood Unlimited ONLINE Membership
99.00 €

/ month

Feelgood Unlimited Membership
About the class
The ABC of Asana: Half Moon Pose = Ardha Chandrasana
In this video we will look into the Half Moon Pose (Ardha Chandrasana) one of the most common postures in Yoga classes. We will look into the stable foundation of this posture provided by your foot, as well as the necessary flexibility needed from our hips and ankles as well as the required strength in your core and upper body.
This is going to be an Asana focused workshop-style 45 minute practice nuggets. In these 45 minutes we will dive deep into one specific Asana over the course of a week. There will be 2-3 classes each week where we will work and progress the 'Asana of the week'.
Every week Bruno will focus on that specific Asana and dismantle the posture piece by piece. He will be sharing: different variations to make them accessible for every body, progressions to the posture, different ways to do the posture (using props), etc. Unlike a 'regular' class you will get the chance to ask questions after class or write an email to brunoteyssandier@gmail.com with specific questions, which will be discussed in the next class.
Looking forward to seeing you on the mat :)
About the trainer/teacher
Bruno Teyssandier was an active mountain and mountain bike tour guide before he came in contact with yoga in 1998. After an accident in Nepal (1999), which made him turn around 180 degree, he decided to participate in a yoga teacher training in LA California in the fall of 1999. Since then, he has studied in India in 2000, 2001, 2003, 2004, 2014, 2015, 2016, 2017, 2018. He owned, directed and taught at Yoga 108 in Marin county (California) and New Orleans (Louisiana) for 7 years, taught around the world from 2004 to this day. He graduated from many methods of Hatha Yoga included but not limited to Bikram Yoga (L.A California 1999), Iyengar Yoga Therapy Program (Poona, India 2000–2001), Iyengar Yoga Apprenticeship (San Francisco, California 2001–2002), Moksha/Modo yoga (Montreal, Canada 2010) , studied with Sri K Pattabhi Jois (Ashtanga yoga) in Mysore India for 9 months 2003–2004, Cameron Shane (Budokon Yoga) in Dusseldorf 2015, and mainly he has been a dedicated student of Manouso Manos, who is one of the most capable and experienced of the Senior Iyengar Yoga Teachers, for over 16 years. Bruno was invited as a guest teacher to two "Yoga to the people" teacher trainings in 2010 (N.Y.C and San Francisco) and as a lead teacher in the Bali yoga Wien 3 weeks program in Bali in Oct 2017 and Feb 2018. In 2015, he was introduced to Qigong and has been practicing weekly since as well as Tai Chi since 2016. In 2017, he discovered Kalaripayattu and spend 8 weeks in Kozhikode (Kerala-India) to study the basics of this art. In March 2018, he graduated from Flyhighyoga@ in Bali, a method that is inspired by the Iyengar yoga tradition using device to hang and be supported by belt hooked on the ceiling. His directions are firm but nurturing, he teaches from a warm heart and sense of humor, yet with strong focus.