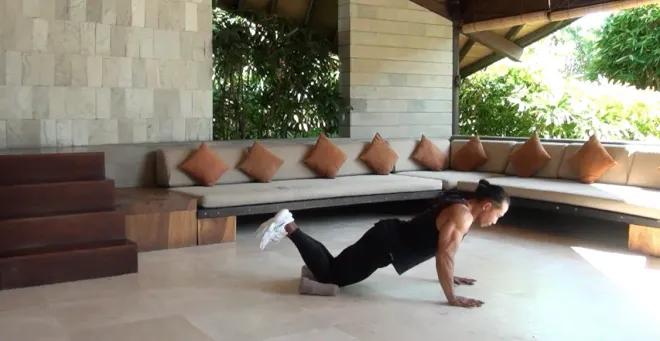 Train your upper body with world champion Komang Arnawa
Video
Availability after purchase
72 hours
Price
15.00 €
Single ticket
13.00 €
Online Drop-in 45- 60 min
14.00 €
Online Drop-in 75-90 min
80.00 €
Online Monthly Card
55.00 €

/ 4 weeks

The Bootcamp Pass
69.00 €

/ month

The Freedom Pass
About the class
This special practice on the training of the "upper body"with my good friend and guest teacher Komang Arnawa, is part of a series of fitness&wellness classes to be practiced at home to kickstart your weekend, yay!
These classes will not only get you back into shape, but Komang will also focus on themes such as proper nutrition, regulating the metabolism, how to build physical strength in a healthy way and how to tone 'those areas' correctly and efficiently. Komang is so inspiriting not only in the gym but also with his natural life-style!
Komang Arnawa rose to fame in the international bodybuilding arena, twice winning the highest honor in the sport as Pro World Champion in 2004 and 2005. He was crowned champion of his last six successive competitions, becoming one of the youngest ever to compete and currently remains undefeated as a top drug free bodybuilder. Komang holds degrees in Advanced Personal Training and Performance Nutrition. His Rejuvenation Retreat programs and online health and fitness consulting business extends his instruction to international fitness clientele outside Bali. Komang is the President of International Federation of Bodybuilding (IFBB) Indonesia and the creator/director of Bali's bodybuilding championship Muscle Beach Bali. Komang was the subject of an award-winning 2009 documentary Earth Meets Wind.
All of these practices are in English. In case you cannot make it on time to practice, no problem! The recording will be sent to you right after practice and is available for 72 hours!
www.komangarnawa.com
About the trainer/teacher
www.komangarnawa.com Komang Arnawa rose to fame in the international bodybuilding arena, twice winning the highest honor in the sport as Pro World Champion in 2004 and 2005. He was crowned champion of his last six successive competitions, becoming one of the youngest ever to compete and currently remains undefeated as a top drug free bodybuilder. Komang holds degrees in Advanced Personal Training and Performance Nutrition. His Rejuvenation Retreat programs and online health and fitness consulting business extends his instruction to international fitness clientele outside Bali. Komang is the President of International Federation of Bodybuilding (IFBB) Indonesia and the creator/director of Bali's bodybuilding championship Muscle Beach Bali. Komang was the subject of an award-winning 2009 documentary Earth Meets Wind. www.komangarnawa.com