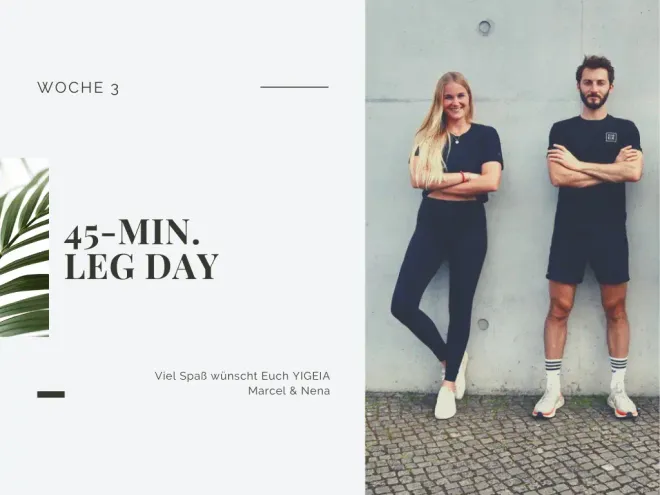 Woche 3: 45-Min. Leg Day
Video
Facility/Studio
YIGEIA | Body & Mind
Availability after purchase
Unlimited availability
Price
| | |
| --- | --- |
| 89.00 € | 4-weeks Journey to Fitness, inner Strength, and Health |
About the class
Woche 1: Workout&Mobility
Möchtest Du fitter, gesünder und ausgeglichener werden? Möchtest Du einmal an Deine Grenzen gehen und alles aus Dir rausholen? Dann lass Dich von unserer 4-weeks Journey begeistern.
In dieser "4-weeks Journey" begleiten wir Dich jede Woche mit einem ausgewählten Trainingsplan und unterstützen Dich:
fitter,
ausgeglichener
und mobiler zu werden
Unser Programm ist ganzheitlich ausgerichtet und verbindet Fitness, Cardio, Kraft, Yoga, mentale Stärke und inneres Wohlbefinden. Du erhältst einen umfassenden Trainingsplan, der Dich strukturiert durch Dein wöchentliches Training führt und dir Tipps für ergänzende Cardio Einheiten bietet.
In der ersten Woche starten wir ganz sanft mit einführenden Yoga Stunden und kurzen Ganzkörpertrainings, während in Woche 2 die Grundlagen für Kraft, Ganzkörperfitness und Cardio aufgebaut werden.
In Woche 3 und 4 ergänzen wir schließlich das Ganzkörpertraining durch spezifisches Krafttraining und energetisierende Flow Einheiten.
Unser vielfältiges Ergänzungsangebot, das von Morgen- und Abendroutinen bis hin zu einem kurzen Talk über das Thema Schlafoptimierung reicht, runden dein Programm ab.
Have Fun and Start Now.
Eure Nena & Marcel