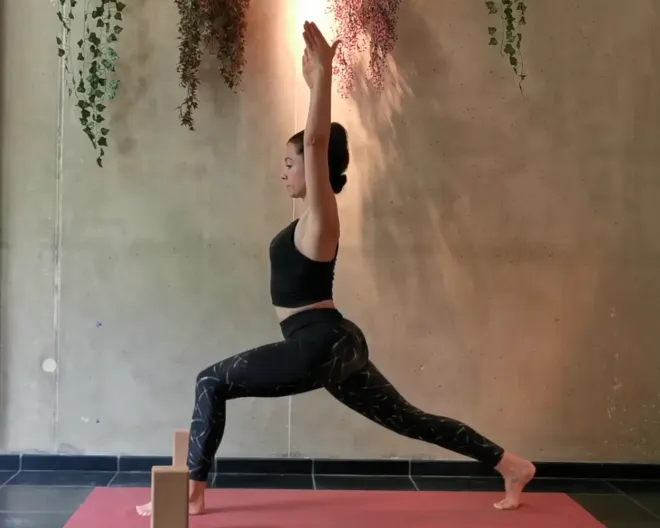 Hamstrings Short flow with Inge (Intensity 2, Complexity 1).
Video
Facility/Studio
Hot Flow Yoga Jordaan
Availability after purchase
Unlimited availability
Price
0.00 €
Single ticket
20.00 €
1 Single Class
30.00 €
3 Class Card - Introduction Offer
35.00 €
1 Week Pass
60.00 €
5 Class Card - Introduction Offer
149.00 €
10 Class Card - valid for one year
1,099.00 €
1 Year of Unlimited Yoga
99.00 €

/ month

Monthly Unlimited
About the class
This short hamstring sequence is ideal for a short hamstring stretch and strengthening after work, running, or for the intermediate yogi who wishes to work on those hamstring fundamentals. It is the second in a series that builds up in intensity (1&2) and complexity (1&2).
About the trainer/teacher
The reason I became a yogi is the same reason why I became a psychological scientist: I am fascinated by human behavior and I have a drive to learn. For me personally, learning, writing, and teaching about psychology is a passion. I long for an understanding of the world and the people in it. I want to know what makes us think, what makes us feel, what makes us move and most of all, I want to use that knowledge to help others change their lives for the better. Yoga is no different for me. The reason why yoga is so effective at eliciting health changes is because it is an integrative approach. Instead of being a quick fix to get a great body, yoga is a system that helps you to grow psychologically, mentally, and physically through movement, philosophy, breath practice, and meditation. As a scientist and a yogi, I have not only felt the transformative power of yoga, I also studied why it works so well, and I truly enjoy sharing this knowledge during my yoga classes.