Empower: 9 week Foundational Program into Steel Mace Vinyasa
Online stream
Starts on Sunday, 14/01/2024
Price 375.00 €
Description:
LIVE at the Studio & ONLINE!
EMpower is a transformative journey to awaken energy and strength in your vinyasa practice.
In this program, you will discover a source of power that lies deep inside, ready to harness, as you step into a warrior archetype and wield an ancient weapon.
By training with a steel mace, or the Gada as in Sanskrit, we cultivate precision and a high state of focus in our movement. To support this load, our feet ground more firmly, our core awakens and our physical vessel naturally comes into a state of balance.
As the mace encircles our body we clear our energetic field. The result is embodied awareness, a stronger posture and a deeper state of presence. Instead of just creating flow we enter into "Flow," both on and off the mat. When the mace is removed our practice becomes more fluid, connected and more centered.
We build confidence and a completely able mindset, through our mace work.
So come join the challenge, awaken more fully into power, a power embodied and ready to be harnessed!
There will be a live session at the Yogazentrum every Sunday noon (12.00 - 13.30) (also broadcastet via ZOOM) and a pure ZOOM session every Thurday evening (19.30 - 21.00)
This training is in English.
18 hours training, Yoga alliance certified.
If you want to try out the steel mace bevor booking the whole training, you can join one of our workshops:
https://www.eversports.at/e/workshop/fM9bnfw
Online stream
There is an online stream available for this activity. To participate, take the following steps:
This studio uses Zoom as their online streaming provider. Download the according app to your laptop, tablet or smartphone
Access to the online livestream is available 15 minutes before the start of the activity. Simply go to "My bookings" and click on "Join online stream now" to be redirected to the corresponding page
With some streaming providers (e.g. Zoom) it is possible for participants to see each other. However, it is theoretically possible to deactivate the camera function. The name you enter when entering the online meeting room is displayed to other participants. However, you can always change your name (e.g. only the initials). Please note: Individual rules for online participation may apply for each class or venue.
Teacher :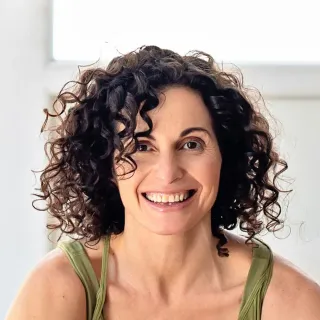 Adina
Adina is a Vinyasa Flow-based teacher from New York City and brings over 20 years of experience in teaching yoga, pilates, somatics, and various movement arts. She holds a master's degree in Performance Studies with an emphasis in dance ethnography and has studied the movement arts in in the United States, Peru, Brazil and Cuba. Her yoga classes are a beautiful fusion of embodied flow and strength-based practices. With her latest offering, Steel Mace Vinyasa, she invites you to tap into your inner warrior. Through Adina's guidance, you'll explore the powerful combination of vinyasa yoga and the steel mace or Gada as in Sanskrit - an ancient weapon rooted in India that warriors used to train their bodies for battle - unlocking your strength, resilience, and warrior spirit. Get ready to embark on a transformative journey that will empower and uplift you both physically and mentally.
Dates:
| | | | | |
| --- | --- | --- | --- | --- |
| 1. | 14/01/2024 | 12:00 - 13:30 | Grenzgasse 40, 2340 Mödling | Adina |
| 2. | 18/01/2024 | 19:30 - 21:00 | ONLINE ., ONLINE . | Adina |
| 3. | 21/01/2024 | 12:00 - 13:30 | Grenzgasse 40, 2340 Mödling | Adina |
| 4. | 25/01/2024 | 19:30 - 21:00 | ONLINE ., ONLINE . | Adina |
| 5. | 28/01/2024 | 12:00 - 13:30 | Grenzgasse 40, 2340 Mödling | Adina |
| 6. | 01/02/2024 | 19:30 - 21:00 | ONLINE ., ONLINE . | Adina |
| 7. | 04/02/2024 | 12:00 - 13:30 | Grenzgasse 40, 2340 Mödling | Adina |
| 8. | 08/02/2024 | 19:30 - 21:00 | ONLINE ., ONLINE . | Adina |
| 9. | 11/02/2024 | 12:00 - 13:30 | Grenzgasse 40, 2340 Mödling | Adina |
| 10. | 15/02/2024 | 19:30 - 21:00 | ONLINE ., ONLINE . | Adina |
* All prices including VAT