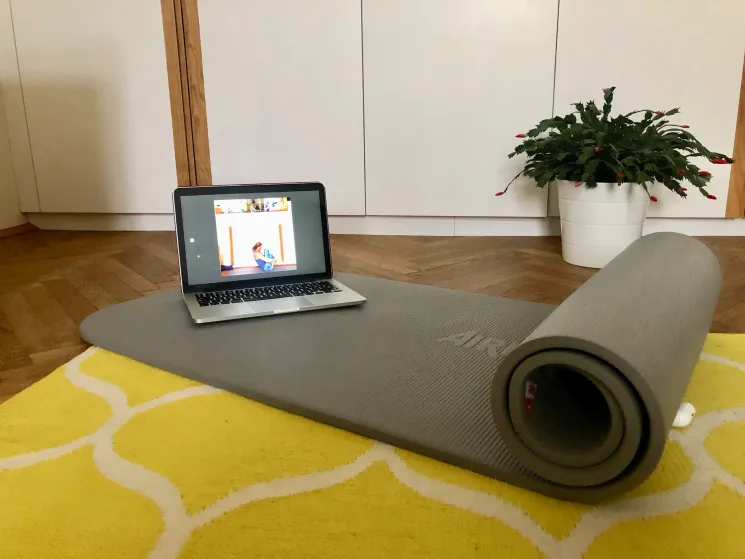 Level
All Levels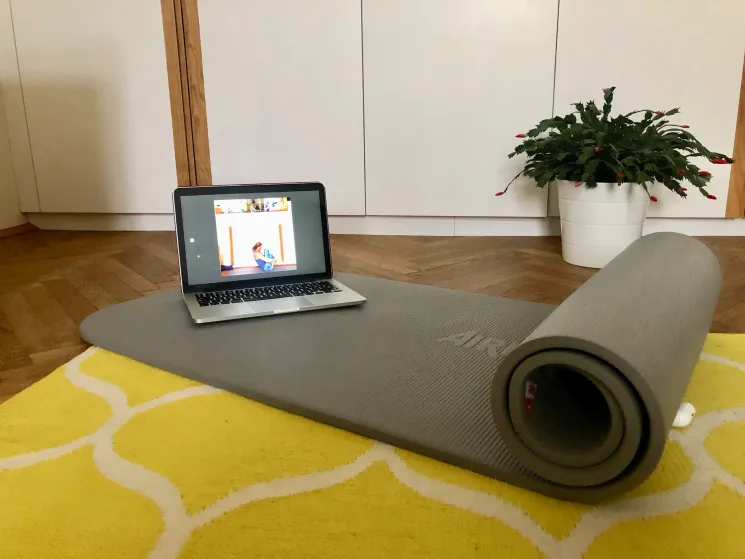 Guten Morgen - Wirbelsäule und Rumpfmuskeln! In 30 Minuten wecken wir vorsichtig unsere Wirbelsäule auf, zuerst mit sanfteren Mobilisationsübungen und dann mit Kräftigungsübungen für den ganzen Rumpf, danach ein kurzer Fokus auf Schultern oder Hüfte-/Bein- Mobilität und Stabilität, zu allerletzt ein paar Balanceübungen, um beschwingt den Tag zu beginnen.
Georg (50+, IT Manager), der regelmässig dabei ist sagt:
"Wenn ich den Tag mit Pilates beginne, dann starte ich viel ausgeglichener und habe den restlichen Tag mehr Ruhe und Kraft. Die Kombination von Kraft und Dehnübungen ist sehr effektiv."
Bitte melde Dich bis spätetens 21:00 am Vorabend an, denn falls zu wenig Teilnehmer sind, wird die Stunde automatisch zu dieser Zeit abgesagt. (Siehe Stornierungsregeln).
Time
07:00 AM - 07:30 AM
(30 min)
There is an online stream available for this activity. To participate, take the following steps:
This studio uses Zoom as their online streaming provider. Download the according app to your laptop, tablet or smartphone

Access to the online livestream is available 15 minutes before the start of the activity. Simply go to "My bookings" and click on "Join online stream now" to be redirected to the corresponding page

With some streaming providers (e.g. Zoom) it is possible for participants to see each other. However, it is theoretically possible to deactivate the camera function. The name you enter when entering the online meeting room is displayed to other participants. However, you can always change your name (e.g. only the initials). Please note: Individual rules for online participation may apply for each class or venue.
Teacher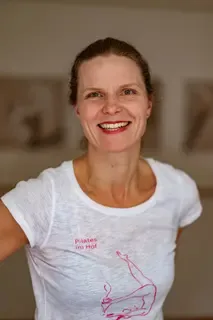 Theres
About
Schon nach meiner 1. Pilatesstunde im Jahr 2008 war ich von der Pilates Methode fasziniert, nach jedem Training fühle ich mich durchmassiert, gekräftigt und aufgerichtet und das tolle ist, dass ich es selbst erarbeite mit genauen Anleitungen des Trainiers. Seit 2012 unterrichte ich selbst und bin nachwievor begeistert, wie schnell jeder lernt seinen Körper wieder unter seine Kontrolle zu bekommen, ganz egal welches Alter oder Fitnesslevel jemand hat. Es ist wie eine neue Sprache zu erlernen oder eine fast vergessene wieder neu zu entdecken. Je mehr man übt desto schneller sieht man die Erfolge, aber mit auch nur 1-2 Trainings die Woche sieht und spührt man schnell die Fortschritte. Es macht mir eine riesen Freude meine KundInnen mit meiner Begeisterung zur Körperwahrnehmung und richtigen Körperhaltung anzustecken.
Education
2018 Biomechanics and Functional Anatomie : how our body works and how to cue that reality; rotated and twistes pelvisis (PVA cont. education, 1 day) 2018 Spinal Articulation Progression, Chair, Spine Corrector, Barrel with Shari Berkowith (PVA cont. education, 1 day) 2018 Core Motivation and the Sling System Aproach by Marie Jose Bloom, (Pilates Verband Austria, continuing education) 2018 Mix up Your Mat, JPilates London (CPE continuing education) 2017 Sole to Spine mit Madeline Black, (PMA continuing education) 2016 Erste Hilfe Kurs für Pilates Professionals bei Pilates Foundation London 2015 Somatic Education, Level 1, Align Somatic London 2015 Angewante Anatomie (Psoas as Core Muscle), Fusion Pilates 2014 Skoliose Workshop (2 Tage), Reach Pilates London 2014 Angewante Anatomie (Iliosakralgelenk und Hüftgelenk), JPilates London 2012 Skoliose Workshop mit Madeline Black (PMA continuing education), Berlin 2012 Abschluß zum zertifizierten Pilates Studio Trainer bei The Body in Balance Studio Berlin (520h), anerkannt vom Deutschen Pilates Verband
Pricing options
| | | |
| --- | --- | --- |
| €84.00 | Starter-Paket für Gruppen-Trainings | |
| €29.00 | Live-Stream 4erKarte - bis 30min | |
| €69.00 | Live-Stream 10er-Karte - bis 30min | |
Cancellation policy
Bitte melde Dich bis spätestens bis 20.45h vor dem Morgentraining ab und idealerweise auch an. Falls nicht genügend TeilnehmerInnen angemeldet sind, wird dieses Training automatisch zu diesem Zeitpunkt abgesagt.
Danke für Dein Verständnis.
Time
07:00 AM - 07:30 AM
(30 min)