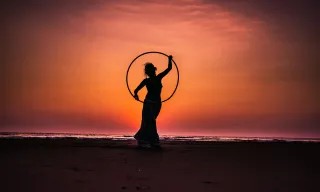 HULA HOOP ONLINE MIT SABINE JEANNIE ZORN
Add to Favorites
Share
(No reviews yet)
About us
30 Minuten Hula Hoop zu cooler Musik- online. Gemeinsam hoopen und Spaß haben, sonst nichts! Kein zusätzliches Fitnessprogramm, kein Balancieren auf einem Bein, keine Choreographie. Simply HULA HOOP! Die Trainings können auch als Übungstrainings benutzt werden, für all jene, die mit dem Hoopen beginnen. WHOOP WHOOP - HULA HOOP
Amenities
Showers
Food
Shop
Wellness
Changing rooms
Parking lot
Card Payment
Reviews
0.0
(No reviews yet)
Further helpful information
About the Team
Sabine Jeannie Zorn ist zertifizierte HULA HOOP Trainerin aus Wien. Online finden mit ihr regelmäßig ca. 30 Minuten HULA HOOP Klassen statt, in denen gemeinsam zu cooler Musik gehoopt. Sabine Jeannie: ''Wir machen keine Choreographien oder sonstige Zusatzübungen, sondern wir hoopen gemeinsam und haben Spaß. Man muss nicht auf einem Bein balancieren können oder Gewichte stemmen, während man hoopt :-) Schön wäre, wenn alle ihre Videos einschalten, dann wird die Klasse zu einer echten persönlichen Klasse. Nach 30 Minuten hat man richtig viel für die eigene Fitness gemacht.'' Der Hula-Hoop-Reifen ist ein wahres Multitalent unter den Sportgeräten. Mit ihm werden Muskeln aufgebaut, Kalorien verbrannt, die Durchblutung gefördert und die Organe angeregt. Zoom einschalten, Video einschalten und alle Mithooper*innen sehen und los geht's! ''Ich freue mich auf Euch!'' WHOOP WHOOP - HULA HOOP
Frequently Asked Questions
1. What makes HULA HOOP ONLINE MIT SABINE JEANNIE ZORN special?
Der Hula-Hoop-Reifen ist ein wahres Multitalent unter den Sportgeräten. Mit ihm werden Muskeln aufgebaut, Kalorien verbrannt, die Durchblutung gefördert und die Organe angeregt. Effektiver Muskelaufbau verschiedener Muskelgruppen Obwohl es spielerisch wirkt, kann man mit Hula-Hoop Muskeln aufbauen. Mehrere Muskelgruppen werden dabei gleichzeitig beansprucht: · Bauchmuskeln · Rückenmuskeln · Gesäßmuskeln · Oberschenkelmuskeln https://www.ndr.de/ratgeber/gesundheit/Hula-Hoop-Muskeln-aufbauen-und-Kalorien-verbrennen,hulahoop110.html
2. What should I know for my first visit?
Einfach mitmachen :-) Bei Fragen z.B. zum Reifen vorab ein mail an Sabine.Zorn@leuchtpunkte.at
3. Do I have to bring my own equipment or is it possible to borrow some at the venue?
Die Klassen sind online, daher muss jede und jeder ihren und seinen Reifen haben. Und Internet :-)
4. What should I do if I have booked but cannot come?
Available sports types and activities